TAG | RFN Rydex inverse 2x Financial
Comments off · Posted by admin in FINRA
Soreide Law Group, PLLC wants to respresent investors who's brokers or financial advisors recommended Direxion Financial Bear 3X Shares (NYSE: FAZ).  The FAZ Fund seeks investment results that correspond to three times the inverse (-300%) daily performance of the Russell 1000 Financial Services Index ("RFSI"), which measures the performance of the financial services sector of the U.S. equity market. If you purchased or acquired shares in the FAZ Fund, Soreide Law Group will represent investors who have been defrauded by Direxion, including any brokers or brokerage firms who recommended the Direxion (FAZ) investment.
With the US equity markets up between 5% and 8% so far this year , the leveraged long ETFs are up significantly, while the leveraged inverse ETFs are down significantly.
The 3x inverse Financial ETF (
FAZ
) was down  -37.57% as of April 9, 2010.  
Direxion is a Delaware statutory trust and a registered investment company offering many separate exchange-traded funds to the public. FAZ Fund may be altogether defective as a directional investment play. Specifically, if your broker or brokerage had not disclosed the following risks in Direxion shares: (1) inverse correlation between the FAZ Fund and the RFSI over time would only happen in the rarest of circumstances, if at all; (2) the extent to which performance of FAZ Fund would inevitably diverge from the performance of the RFSI – i.e., the probability, if not certainty, of spectacular tracking error; (3) severe consequences of high market volatility on the FAZ Fund's investment objectives and performance; (4) severe consequences of inherent path dependency in periods of high market volatility on the FAZ Fund's performance; (5) the role the FAZ Fund plays in increasing market volatility, particularly in the last hour of trading; (6) the consequences of the FAZ Fund's daily hedge adjustment always going in the same direction as the movement of the underlying index, notwithstanding that it is an inverse leveraged ETF; (7) FAZ Fund causes dislocations in the stock market; and (8) the FAZ Fund offers a seemingly straightforward way to obtain desired exposure, but such exposure is not attainable through the FAZ Fund.
Soreide Law Group is also representing investors who were sold these and other ultra short failing ETF'S by their brokers or financial advisors. Please contact us if you have purchased, TZA Small Cap Bear 3X Shares, RFN Rydex inverse 2X Financial, SKF Proshares Ultrashort Financials, SRS Proshares Ultrashort Real Estate,SJH Proshares Ultrashort Russell 2000 Value, SJH Proshares Ultrashort Mcap Value,TWM Proshares Ultrashort Russell, SCC Proshares Ultrashort Consumer Svcs, RRZ Rydex Inverse 2x Russell 2000, or any of the following Leveraged ETF's.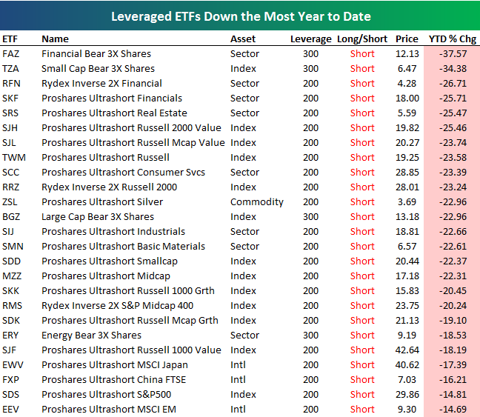 Don't become a victim of this "trader's trap" in these leveraged funds!
If you have fallen victim to this "trader's trap," contact a FINRA Securities arbitration attorney at Soreide Law Group, PLLC, for a free consultation on how to recover your FAZ and other Leveraged ETF losses. Call 888-760-6552, or visit www.stockmarketlawsuit.com. Soreide Law Group, PLLC, representing investors nationwide before FINRA and the NFA.
Direxion · Direxion Financial Bear 3X Shares · Direxion investment · Direxion shares · ETF · FAZ · FAZ Fund · Financial ETF · Financial Industry Regulatory Authority · FINRA · FINRA arbitration · finra lawyer · investment fraud · leveraged funds · leveraged inverse ETF's · NYSE · RFN · RFN Rydex inverse 2x Financial · RFSI · RRZ · RRZ Rydex Iverse 2x Russell 2000 · Russell 100 Financial Services Index · SCC · Scc Proshares Ultrashort Consumer Svcs. · Securities and Exchange Commission · securities arbitration · SJH · SJH Proshares Ultrashort Mcap Value · SJH Proshares Ultrashort Russell 2000 Value · SKF · SKF Proshares Ultrashort Financials · SRS · SRS Proshares Ultrashort Real Estate · Stock fraud lawyer · TWM · TWM Proshares Ultrashort Russell · TZA · TZA Small Cap Bear 3xShares